Beyond Chakras / Color Healing for Clarity and Focus 
Purchase a Set of 7 Color Healing Silk Scarves, custom hand-dyed, energy-infused (value $397)
for $297 (you get $100 off if you order until December 11).
and get FREE Beyond Chakras / Color Healing for Clarity and Focus Online Course (value $497)
Online Course starts Dec 20, 2018.  You will receive your set of 7 silks by the first day of class.
BUY NOW $297  ($100 off, Full Value $397 )
$397.00 Add to cart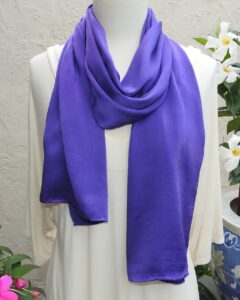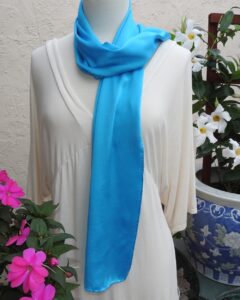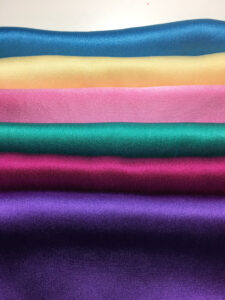 ANNA CHAMPAGNE SILKS GIFT CERTIFICATE
 HAND PAINTED SILK SCARF , CHARMEUSE OR JACQUARD

$145.00Add to cart
Anna Champagne Silks are hand painted one-at-a-time by the Artist, in beautiful, healing colors.
Each one is created with intentions of love, healing, and the touch of Angels.
Surround yourself in elegant beauty and healing color!
View More Silks and Shop Now at   annachampagnesilks.com    etsy.com/shop/annachampagnesilks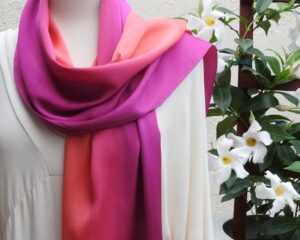 "I create silks that surround people in beauty and the healing energy of color  that nurture, uplift and inspires.  Luxurious hand painted silk scarves, shawls, and throws that are as soft as rose petals and as harmonious and peaceful as being in a beautiful garden. Feel the difference! Live a poetic life of beauty…Joie de Vivre in Silk!"     Anna Champagne
Fiber Artist/Designer Anna Champagne handpaints each scarf, one-at-a-time with dyes in healing colors.
Luxurious and silky soft, with uplifting energy to inspire and delight.   
We invite you to experience them for yourself.
View more silks and SHOP NOW at