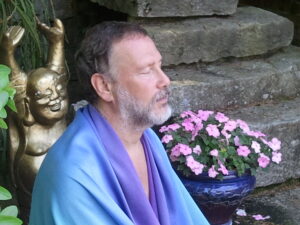 "I love to meditate in my Anna Champagne Silk Meditation blanket, my comfort cocoon, as I like to call it. It gives me a feeling of security and warmth, like a big cosmic hug. It gives my physical body such a comfort, making it easier to meditate, I feel so comfortable and relaxed. The excellent quality and heavy weight of the silk blanket gives me energetic protection, like a force field, that makes me feel good. Like a butterfly emerging from a cocoon, there is total transformation allowing me to transcend into the Divine. And the really beautiful spiritual colors add a plus to my meditations. The higher chakra colors, turquoise greens, blues and violet, help to create a higher vibration making it conducive to accessing more subtle energies."
Jeffrey Roberts, DC
Chiropractor and long time meditator
ABOUT MEDITATION SILKS
Anna Champagne Silks are hand-painted, energy infused silks.
What does this mean?
First, silk has the highest vibration of fiber, and a crystalline structure.  Everything has a vibration or energy. Silk vibrates at a high frequency. This helps to protect and insulate us energetically (our energy fields.)
Next, I hand-paint each silk in clear, beautiful, jewel tone colors. This also adds to creating a high vibration or energy. Muddy dull colors bring us down, clear vibrant colors lift and inspire us.  And each color has a specific frequency of vibration.  
All through the process of creating your hand-painted silk, I am holding the intention of the perfect silk for you.  My Artist / Dye studio is my sanctuary where I bring clear, loving intention to the creation of your silk.
When worn on the body, you surround yourself in silks that are soft as rose petals to the touch, and nurture feelings of peacefulness calm and uplifting energy.  Surround yourself in beauty and healing energy in an Anna Champagne Silk scarf, shawl or blanket.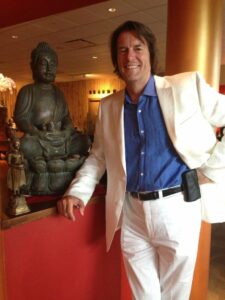 "Besides being enthralled with the look and feel of my silk, I use it to facilitate my meditation. It bathes my mind in tranquility and wraps my heart in serenity. My silk is an important piece in helping me become a better, more spiritually evolved person."
                                    —Dr. Stephen Royal Jackson. PhD, Stress Specialist,
                               Author of Eight Steps to Love, and Love Conquers Stress