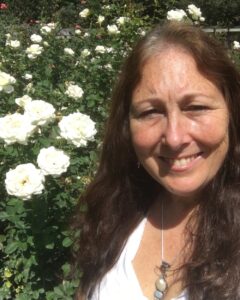 Anna Champagne is a Fiber Artist, Designer, and Vibrational Energy Healer creating vibrant and luxurious silk scarves, shawls, throws and custom fabrics. Each scarf is designed and hand painted one-at-a-time by the Artist with dyes in beautiful uplifting colors.Anna Champagne has a BFA in Fiber from the Program in Artisanry at Boston University, and an Associates Degree in Interior Design (IADT, Tampa).
Her love and interest in textiles began at a young age. She has taught classes in weaving, computer- aided design, and Shibori. She has trained extensively in the holistic healing field,is a certified Transformational Breath Facilitator and Trainer, and has studied with Byron Katie, Jacob Liberman, Judith Kravitz, Gregg Braden and many others.
Her work has been exhibited in galleries from Madison Avenue, NYC to Carmel, CA, and at high end craft shows: the ACC craft shows in Baltimore, West Springfield, and San Francisco, Crafts at the Castle in Boston, Hildene, Manchester, VT, , Sarasota, FL as well as Holistic shows: The New Life and Whole Life Expos in New York, the Whole Health Expos in New England, as well as others. As a Waldorf parent for over 10 years, she participated in their fairs, as well. Her earlier work is included in The Guild 4, A Sourcebook of American Crafts.
"I create silks that surround people in beauty and the healing energy of colors that nurture, uplift and inspire. Luxurious hand painted silk scarves, shawls, and throws that are as soft as rose petals and as harmonious and peaceful as being in a beautiful garden. Feel the difference! Live a poetic life of beauty…Joie de Vivre in Silk!"

Love, Anna
Anna has a gift for assisting others in remembering their innate joy and connection with their Divine self, to live empowered lives of love, peace, beauty and vibrant health.